APPSA generates over 40 seed varieties in Malawi, Mozambique and Zambia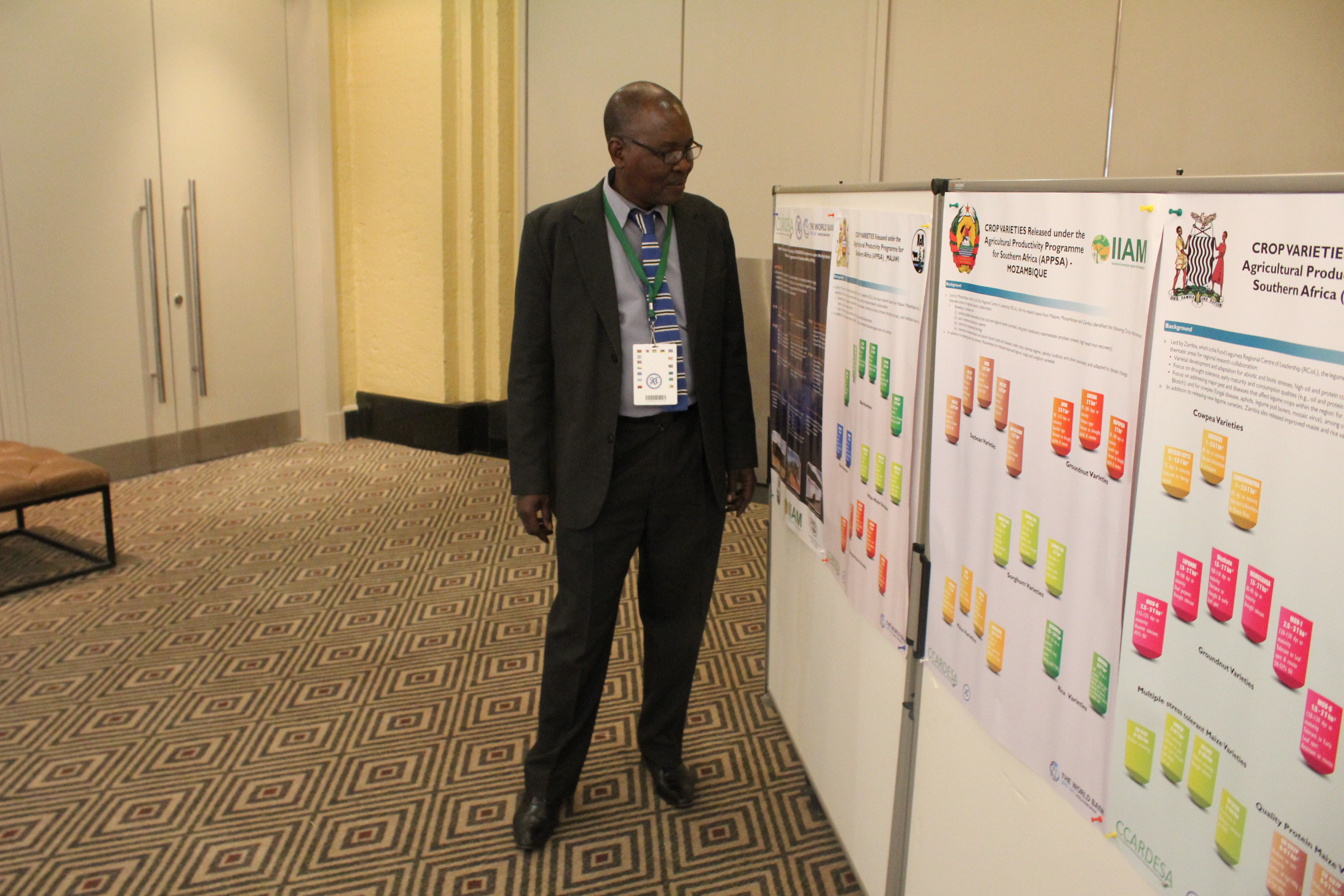 The Centre for Coordination of Agricultural Research and Development for Southern Africa (CCARDESA) continued receiving people visiting its stand at the SADC Ministers of Agriculture, Food Security, Fisheries and Aquaculture in Windhoek, Namibia.  CCARDESA displayed posters on seed varieties that have been developed under the Agricultural Productivity Programme for Southern Africa (APPSA), a project which is funded by the World Bank and is coordinated by CCARDESA.    The posters have attracted the attention of the delegates.  Through collaborative research efforts in the three APPSA implementing countries (Malawi, Mozambique and Zambia), new crop varieties have been developed and released.  The posters are showcasing some of the improved crop varieties developed with focus on high yield and quality, early maturity, adaptation for abiotic and biotic stresses as well as tolerance to major diseases and pests of the specific crop.   
The posters show some of the food legume (beans, soybeans, pigeon peas, cowpeas and groundnuts), rice, sorghum and maize varieties that have been released. Some of the maize varieties are Bio-fortified (Quality Protein and Pro-vitamin A).  The new varieties are contributing to food and nutrition security in that they are drought resistant, can survive harsh weather conditions and mature early, enabling farmers to have good harvests.  The Quality protein maize (QPM) varieties are nutritionally improved to have higher lysine and tryptophan levels to increase quality protein intake, particularly among young children, thereby improving nutritional status.
The poster showcasing the impact of APPSA in the region shows that the project has reached over 3 million beneficiaries (35% women) with its various technologies, and has disseminated 304 improved technologies, innovations and management practices to support farmers.  These statistics amazed the Director of Agriculture Research from the Ministry of Agriculture in Botswana, Dr Pharaoh Mosupi who applauded CCARDESA and APPSA for the work that they are doing and encouraged them to spread their influence to the rest of the SADC region.
With the release of more than forty new varieties, the project is increasing the availability of improved agricultural technologies, which should help to improve the food and nutrition security and livelihoods of the smallholder farmers with access to the technologies.  Follow the links below to view the posters.
CROP VARIETIES Released under the Agricultural Productivity Programme for Southern Africa (APPSA) _MALAWI
CROP VARIETIES Released under the Agricultural Productivity Programme for Southern Africa (APPSA) - ZAMBIA
CROP VARIETIES Released under the Agricultural Productivity Programme for Southern Africa (APPSA) – MOZAMBIQUE
 Impact of Interventions Coordinated by CCARDESA & implemented under the Agricultural Productivity Programme for Southern Africa (APPSA)