CCARDESA 24th Board Meeting – Taking Stock of CCARDESA Accomplishments for the 2020 First Semester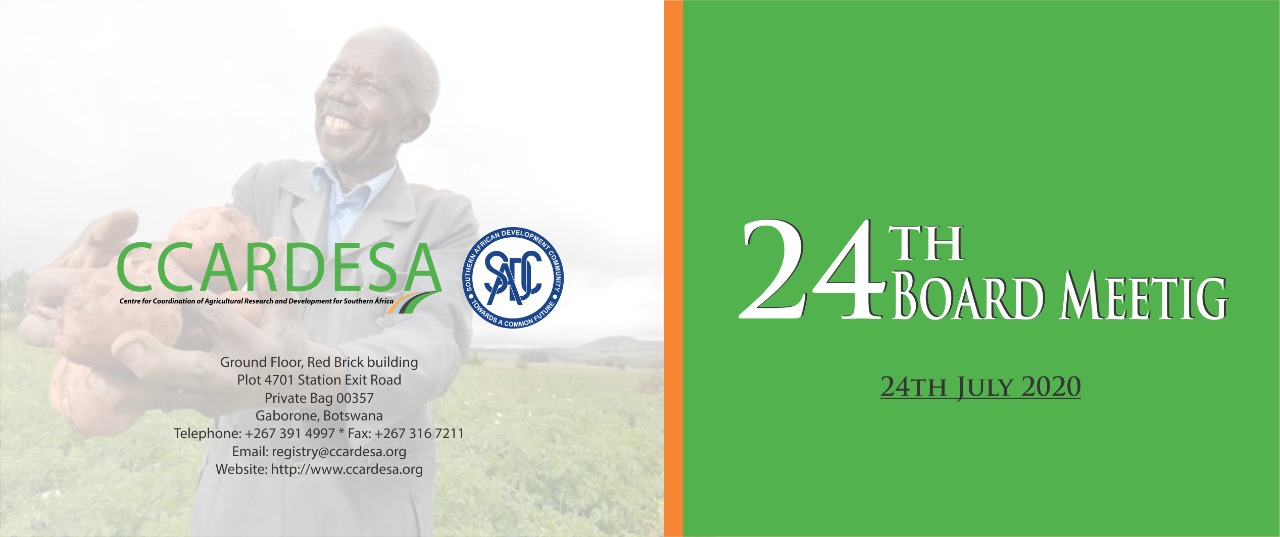 Centre for Coordination of Agricultural Research and Development for Southern Africa (CCARDESA) hosted its 24th Board meeting today, 24th July 2020, through a virtual conferencing platform bringing together Board Members as specified in the CCARDESA Charter as well as some key development and technical partners.
The current Board meeting was held virtually due to restrictions imposed by the COVID-19 pandemic and it is the first meeting of the Board that has the participation of the new CCARDESA Executive Director, Dr Cliff Dlamini, who resumed duty on the 1st of May 2020. 
"I have been looking forward to this meeting with the Board to set a new pace for the turnaround of the organization, together with the Secretariat and partners", said Dr Dlamini.
The objectives of this Board meeting were to review the implementation of resolutions and directives taken during the 23rd Board meeting as well as  to review progress made by the Secretariat in the technical, financial and administrative areas since the last meeting in December 2019.
During the meeting in December 2019, the Board took a number of decisions in form of directives and resolutions as part of its oversight role on CCARDESA. The Secretariat has been taking actions to comply with the resolutions and directives that were passed by the Board.
Efforts made in the first half of the year resulted in developing new programmes for the region and mobilising resources. The Secretariat has provided a detailed progress report on the extent of implementation of the approved activities for the year 2020 including financial, human resources and governance reports as well as resource mobilisation initiatives.
The CCARDESA Board convenes two Ordinary Board meetings every year, usually around June/July and December. When need arises, the Board may hold Extra-ordinary meetings within the year to deal with urgent matters that cannot wait for the ordinary meetings.