Experimenting with Sheltered Farming in Mauritius – a Climate Smart Adaptation Option?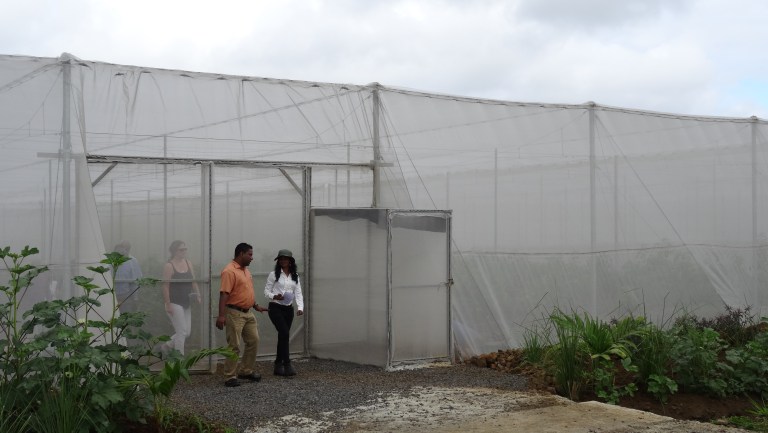 01/22/2018 -

09:30

to

16:30
As part of the 5-day training programme on Tackling climate change in agriculture which is being implemented by CCARDESA and the University of Mauritius, the participants went on an excursion to Plaine Magnien. Here, we were hosted by the Skills and Entrepreneurship Development Programme for Educated Youths. The programme is a new initiative, started in early 2018, by the Ministry of Agro-Industry and Food Security.  It aims at modernisation of the local food crop production subsector as well as promotion of sustainable farming practices especially among younger segments of the population. It comprises the setting up of a sheltered farming park on State Land at Plaine Magnien in the District of Grand Port. The park is intended to provide facilities for the promotion of sheltered farming systems aimed at Mauritian youths who get one year of support to establish a successful farming business.
The sheltered farming park comprises 10 modular units with a floor space of about 0.5 acres each, equipped with drip irrigation and fertigation facilities, as well as water and electricity. After an expression of interest and selection process, the Ministry has enrolled a group of nine trainees and provided them with training in sheltered farming systems undertaken by the Food and Agricultural Research and Extension Institute (FAREI). Each trainee receives a modular unit within the park, where technical support is provided by the FAREI to enable them to undertake crop production activities on their own. Training focused on adapted crops and production technologies (with emphasis on fertigation and vertical production) taking full advantage of the protected environment. The expected result of the programme includes seeing the trainees gain skills and experience they need to create self-employment opportunities with decent revenue generation potential in the non-sugar agriculture subsector. The Ministry is implementing the Programme jointly with the FAREI, in collaboration with the MyBiz and the Human Resource Development Council. The latter institution is funding the monthly stipend being provided to them.
The training participants looked at the sheltered farming from a climate adaption perspective, identifying current practices that are already climate-smart and also providing feedback on additional climate-smart practices and technologies which could be considered by the trainees moving forward.