Tackling Climate Change in Agriculture: Approaches to Adaptation and Climate Smart Agriculture in the SADC Region - Harare, Zimbabwe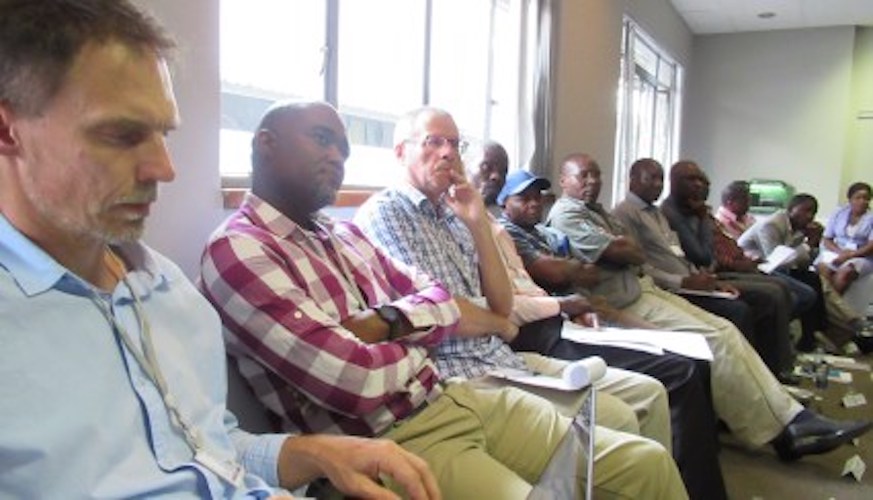 09/25/2017 (All day)

to

09/29/2017 (All day)
CCARDESA organised a training in September 2017 in Harare, Zimbabwe. This training was based on the CCARDESA Training Package which is being rolled out in the SADC region. The objectives of the training were to train participants on the Climate Proofing (CP) approach with a focus on Climate Smart Agriculture (CSA), enable them to apply these concepts in their individual working contexts, get to know concepts of climate change adaptation and climate smart agriculture for agricultural extension services, and enable the participants to  use feedback and lessons to further improve the training for future application in the region. Following is the agenda of the training and presentations.
Monday
Welcome and Opening Remarks
Agenda
Exposé: concept and steps of Climate Proofing
Presentation of case studies, composition of working groups
Tuesday
Introduction to Climate Smart Agriculture: technologies, practices and strategies
Module A: Evaluating present and future vulnerabilities- part 1 current situation
Action learning: risk function
Module A: Evaluating present and future vulnerabilities- part 2 future situation
Wednesday
Module A: Presentation of results
Action learning: dimensions of adaptation options
Module B: Identifying adaptation options
Preparation of excursion
Excursions
Thursday
Recap of excursion
Presentation : Conservation agriculture and Agricultural policies in Zimbabwe
Module C: Selecting adaptation measures
Prioritizing Climate Smart Agriculture practices with data
Friday 
Group presentations
Feedback on Climate Proofing approach
Youth and Climate Smart Agriculture
Evaluation of training
Certificates
Closure
CLICK HERE to read the full report of the training.