New Materials on SAAIKS Knoweldge Hub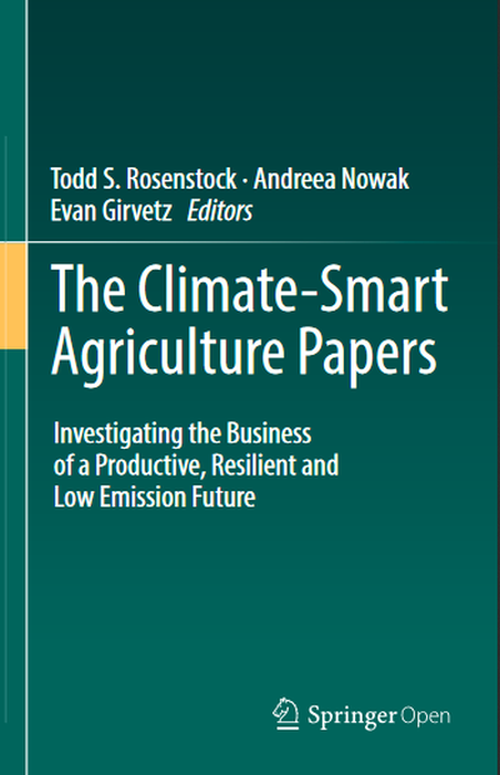 CCARDESA aims to share recent data relating to Climate-Smart Agriculture (CSA) with emphasis on experiences from SADC member states or relevant credible studies.
Recently, two CGIAR Centres, the World Agroforestry Centre (ICRAF) in collaboration with the International Centre for Tropical Agriculture (CIAT), jointly released a book titled The Climate-Smart Agriculture Papers: Investigating the Business of a Productive, Resilient and Low Emissions Further. This publication presents research papers from over 30 institutions, with specific emphasis on Eastern and Southern Africa, which have been assembled to address climate impacts, varieties, farm management, value chains and scaling up Climate Smart Agriculture (CSA) projects in the region. This volume shares a collection of research from private and public sectors and is a great resource for researchers and policy makers engaging on studies relating to climate change impacts on agriculture and agricultural sustainability.
The Food and Agriculture Organisation (FAO) of the United Nations also released a similar publication, titled Climate-Smart Agriculture Case Studies 2018: Successful Approaches from Different Regions. These case studies are part of the Climate-Smart Agriculture Sourcebook Second Edition 2017 series and the CSA work carried out by the FAO. The purpose of this publication is to share the FAO-led examples of how CSA methods can be universally implemented taking into account local and regional context. The case studies focus on the management of crops, livestock, aquaculture and farms, and exploring short- and long-term food security needs, farmers priorities, as well as introducing adaptation to climate change and implementing measures to mitigate green-house gas (GHG) emissions.
To access these resource and many more please visit the SAAIKS Knowledge Hub or follow the links below.
About CCARDESA:
The Centre for Coordination of Agricultural Research and Development for Southern Africa (CCARDESA) was founded by SADC member states to coordinate and facilitate cooperation in agricultural research and development (R&D) in the SADC region. CCARDESA promotes innovative research, technology generation and adoption for sustainable agricultural development through affective partnership and capacity building. The organisation has a vision of:
"A food secure and prosperous Southern African region with vibrant rural livelihoods."
For more information on CCARDESA and its products, you may contact the following:
The Executive Director, Centre for Coordination of Agricultural Research and Development for Southern Africa (CCARDESA), ed@ccardesa.org or registry@ccardesa.org 
+267 391 4997 
(UTC/GMT +2hours)
For release on DGroups, Facebook and News on CCARDESA website.