Successful CCARDESA Representation at Regional Policy Dialogue in Maputo, Mozambique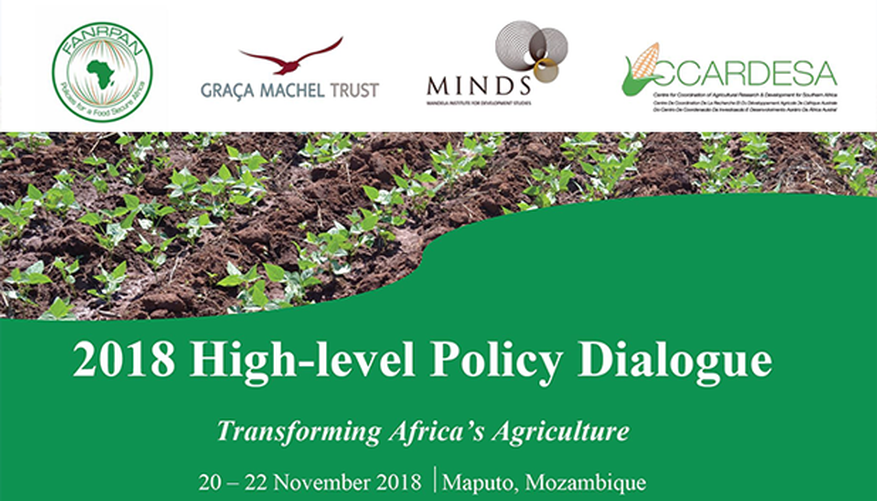 With three significant contributions and a well-positioned information booth, CCARDESA was able to raise its profile to a broad audience at the Regional Policy Dialogue in Maputo, Mozambique hosted by CCARDESA in partnership with Forum for Agricultural Research, Natural Resources and Analysis Network (FARNPAN), Mandela Institute for Development Studies (MINDS), and the Graca Machel Trust (GMT). Over 190 delegates from 21 countries attended the conference which included representatives from government, civil society, research organizations, intergovernmental organisations, private sector actors, farmer organisations and donors. CCARDESA is especially happy to have reached 21% youth and 40% women who attended the event.
The week kicked off with a media briefing event in which Dr. Simon Mwale, the Acting Executive Director of CCARDESA, was able to engage with regional media outlets regarding CCARDESA's mandate and role in promoting the sharing of agricultural research and development information across the SADC region. For more information on this discussion please follow this link:  http://www.ccardesa.org/ccardesa-participates-media-briefing-maputo-mozambique
In addition, Dr. Mwale, presented his view of what is needed to successfully transform Africa's agriculture during a key plenary session. He explained that it is essential that SADC member states undertake a paradigm shift from identifying problems to finding solutions and applying them. Although many member states have developed good agricultural policies, few of them have put these policies into practice and adapted them to the local situation. He also stressed the need for regional linkages and exchanges that he cited as key for undertaking this step. Dr Mwale also stressed the need for a modern and progressive approach to agriculture which involves women and youth as important pillars. It also consists of the constant exchange of information and the communication of knowledge in order to improve and apply agricultural practices and technologies by everybody involved in agricultural value chains. With its Information, Communication and Knowledge Management (ICKM) System CCARDESA facilitates regional stakeholders to realise this ideal. For more on Dr. Mwale's presentation please visit: http://www.ccardesa.org/ccardesa%E2%80%98s-translation-regional-policy-dialogue
The audience learned more about CCARDESA's new ICKM System and it's different components during a presentation by Mr Rudi Hintermeister, from Hatfield Consultants Africa, who helped with the improvement the new ICKM System from a prototype which was initiated by CCARDESA with the assistance of CTA. Mr Hintermeister walked the delegates through the process of developing the new system and presented each aspect of the system including the new website (www.ccardesa.org), the updated SAAIKS platform, the CCARDESA newsletter, DGroups and CCARDESA's social media presence (www.facebook.com/ccardesa). He called on all delegates to engage with the system that was developed to facilitate the sharing of agricultural research and development information. Later that evening, the new ICKM system was formally launched by Dr. Catherine Mungomba, the CCARDESA Board Chair with much fanfare.   
The importance of improved ICKM System became apparent the first day, as the documents displayed at the CCARDESA booth were mostly out of stock on the first day! This exemplified the interest in regional agricultural research and development knowledge and the need for the strengthened ICKM System. Delegates wanting further information were directed to visit www.ccardesa.org, where the SAAIKS Knowledge Hub provides all the relevant information displayed at the booth and much more. Participants appreciated particularly the SADC reports and policies which were also in French and Portuguese to cater for non-native English speakers. They also pledged to look for policies and documents relevant for other stakeholders in their languages so that those can be added to the SAAIKS Knowledge Hub. All products on the Knowledge Hub are accessible for free and address different audiences, and link to other forms of content including videos and partner content.
The launch of the new CCARDESA website is a big step forward for the region's efforts in fostering information exchange and was happily celebrated by the CCARDESA Board, staff and delegates. Everybody is invited to engage with the system, as it relies upon the input of all SADC member states!