CCARDESA launches new website!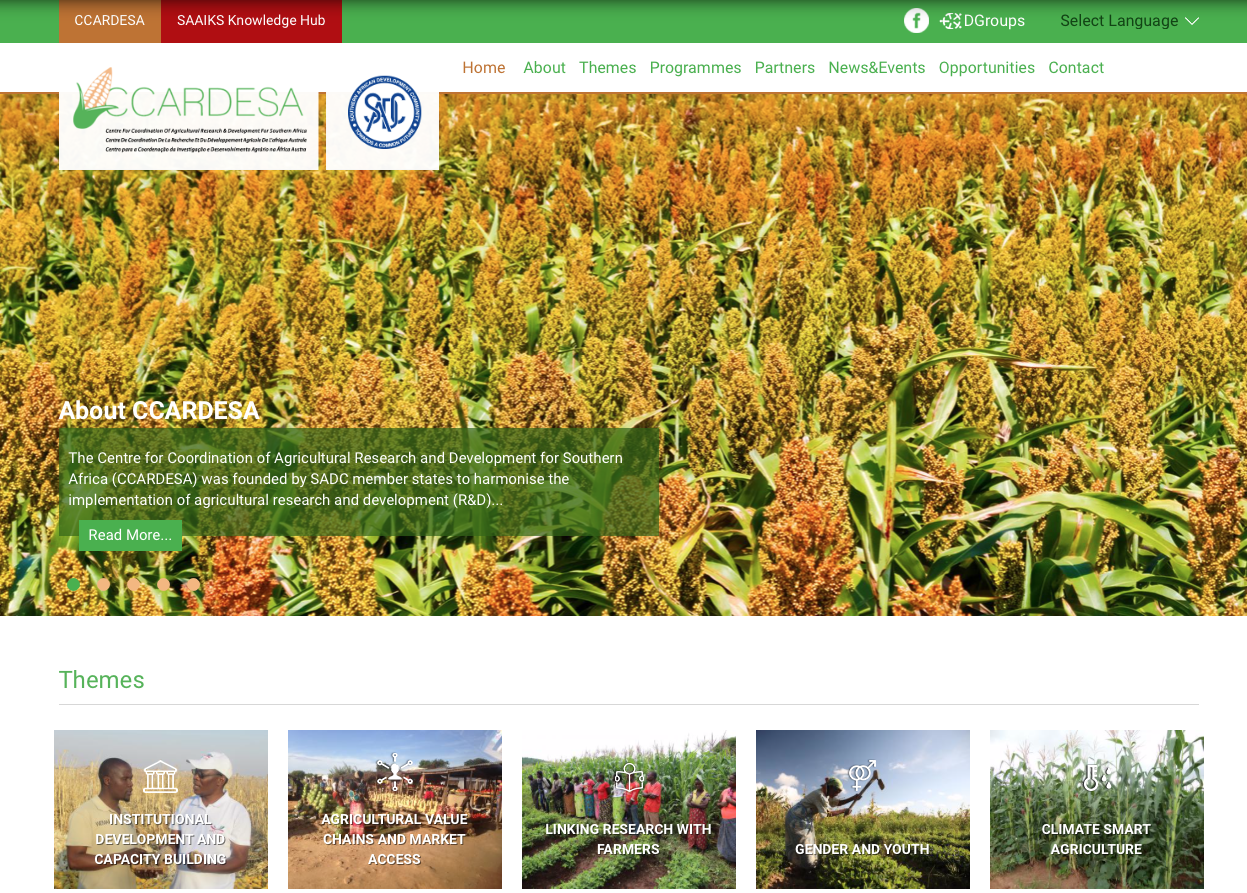 The Centre for Coordination of Agricultural Research and Development for Southern Africa (CCARDESA) has launched its new website www.ccardesa.org - available in English, French and Portuguese. CCARDESA is mandated by the Southern African Development Community (SADC) member states to coordinate regional cooperation in agricultural research and development. In line with this mandate the organisation endeavours to become a regional knowledge hub and broker for the sharing of agricultural information and research across the SADC region.
Over the past few months, the organisation has finalised the first phase of a process to improve Information, Communication and Knowledge Management (ICKM) systems within CCARDESA, including the launch of the website. As part of the improvement, the organisation has integrated its knowledge portal - the Southern African Agricultural Information and Knowledge System (SAAIKS) - into the new website, and developed a new ICKM Strategy to support the institutional frameworks and processes for managing and communicating agricultural knowledge in southern Africa. This process is an effort by CCARDESA to fulfil one of its objectives to facilitate the brokering and exchange of information and technology among its stakeholders. Partners and stakeholders of CCAREDESA are encouraged to explore the new website and provide feedback on operation of the website and the knowledge resources available through its platform. 
Sign-up to receive the quarterly CCARDESA newsletter by entering your email address at the bottom of this page. The official launch of the website will be at the FANRPAN High-level Policy Dialogue on Transforming Agriculture in Africa, 20th to 22nd November in Maputo, Mozambique.
For more information and comments, contact the following: 
Centre for Coordination of Agricultural Research and Development for Southern Africa (CCARDESA)
Executive Director
Ground Floor, Red Brick Building,
Plot 4701 Station Exit Road
Private Bag 00357
Gaborone, Botswana
+267 3914997 Ext 211
ed@ccardesa.org cc'ed to bpodisi@ccardesa.org 
"A food secure and prosperous Southern African region with vibrant rural livelihoods."