Eswatini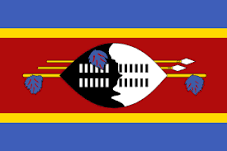 The Kingdom of Eswatini is a small, landlocked country covering a total area of 17,364 km² and is located in the southern part of Africa bordered by the Republic of Mozambique to the east and the rest by the Republic of South Africa. Within this small area each feature of Africa's terrain is found, apart from desert. The Kingdom has four topographical and climatic areas ranging from 400 to 1800 m above sea level, each with its own unique characteristics.
Most households derive their income from agriculture activities, either as small-scale subsistence farmers or as employees of the medium and large-scale farms and estates. They derive their livelihoods from engaging in the production of subsistence crops and rearing livestock. Maize is the dominant food crop in Swaziland and is primarily grown for subsistence purposes. Other subsistence crops grown include legumes, tubers, sorghum, horticultural crops, mushrooms and tobacco on a very small scale. Cash crops produced include sugarcane, cotton, citrus and woodpulp. There is also an observed increase in beekeeping. Livestock rearing plays an important role in the lives of the country's populace. Livestock production includes beef cattle, dairy cows, goats, sheep, poultry and pigs, producing products such as meat, milk, eggs, draft power, manure, hides and skins.
Due to persistent drought, erratic weather conditions and other factors like plummeting international prices, agricultural productivity on Swazi Nation Land is quite low. Food insecurity is a major concern in Eswatini, owing to low agricultural productivity, but also the increase of commodity prices and fuel crisis across the globe particularly in recent months. In reality hunger and food insecurity are some of the major challenges facing the nation, owing to persistent droughts and erratic weather patterns experienced in the country in recent years.