CCARDESA Tests its New Mobile App with Extension in Botswana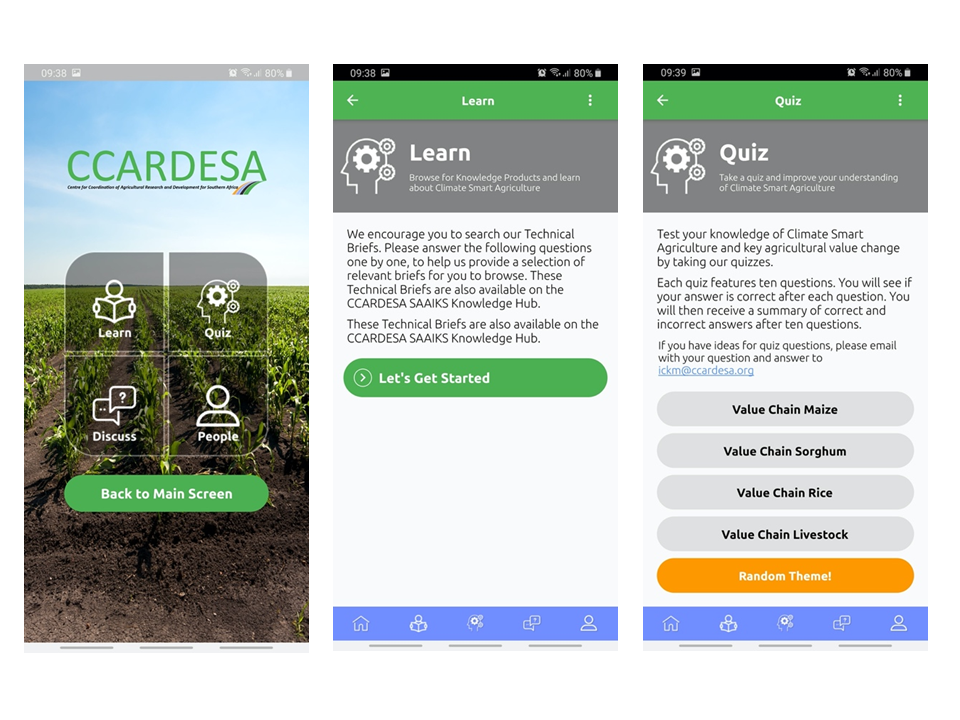 In its quest to engage both farmers and extension, the Centre for Coordination of Agricultural Research and Development for Southern Africa (CCARDESA) conducted its first ever testing on its new Mobile application (App) at Hilton Garden Inn, in Gaborone, Botswana on 21st October, 2019.
The CCARDESA mobile Application designed by MindQ and Hatfield Consultants will allow extension agents to share relevant agricultural information with farmers offline as well as online. The application which is designed to extract data from the CCARDESA website is expected to support farmers to make informed decisions to increase the food security in the SADC Region.
The rationale behind the Mobile application stems from the fact that CCARDESA was founded by SADC member states to coordinate cooperation in agricultural research and development (R&D) in the SADC region. Therefore the CCARDESA mobile application gives CCARDESA an opportunity to fast track knowledge sharing with key stakeholders at national and regional levels, thereby fulfilling its information sharing mandate.
Dr Baitsi Podisi, Research & Advisory Services Thematic Coordinator at CCARDESA, who officially opened the workshop on behalf of Dr Simon Mwale, CCARDESA's Acting Executive Director, acknowledged the relevance of mobile applications as part of modern Information sharing tools instrumental in the 21st Century.
"Knowledge, information and communication are important for CCARDESA as it seeks its place to become a one stop shop or regional broker for agricultural information in the region. The CCARDESA Mobile App will contribute towards achieving that goal", emphasized Dr Podisi.
With the current estimated number of over 2.7 billion smartphone users across the world, CCARDESA has explored the Mobile application route because it is a feasible venture in view of the a massive target audience in the region. App usage and smartphone penetration are growing steadily, without any signs of slowing down in the foreseeable future. In the past year, there were globally more than 205 billion app downloads. This represented a 15% increase from the previous year.
The CCARDESA Mobile App is aiming at providing key stakeholders with all technical briefs seating at CCARDESA's website as well as quizzes on several value chains such as maize, sorghum, rice, livestock and random themes. The Mobile App also allows users to log in or register for CCARDESA discussion forums as well as view the registered app users for further collaboration or possible linkages and networking.
The Managing Director for Hatfield Consultants –Africa, Simon Hughes indicated that "the development of this app started way back in February 2019 with an inception workshop and we hope to release it both on Playstore and Apple store for Android and iOS systems, respectively, very soon".
According to Hughes, this App is designed to operate both online and offline in order to accommodate those situations in which extension officers work in remote areas with limited access to Internet. "This Mobile App is meant to pull off data from the CCARDESA website, however, once the files are downloaded they can be accessed even from places where internet can be an issue", Hughes added.
During the workshop, about 27 extension officers from BUAN managed to install and test the app followed by a process of providing feedback by responding to a brief survey questionnaire. Overall, participants ranked the CCARDESA mobile app as being convenient and user friendly and advised on the addition of other languages besides English.