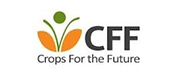 CFFRC aims to be a world leader producing excellent, innovative research on underutilised crops that is responsive to societal demands.  by developing solutions that diversify agriculture using underutilised crops with the following goals in mind:
To secure a greater role for underutilised crops in global agriculture, especially in developing regions of the world.
Through our research, provide trusted knowledge on underutilised crops.
With our partners, establish a global research community on underutilised crops.
From our outputs, deliver innovative and useful products from underutilised crops.
By our actions, develop evidence-based, sustainable applications using under utilised crops for society and environment.