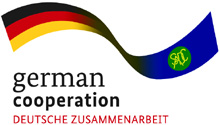 The German Development Cooperation has supported the Southern African Development Community (SADC) Secretariat from 2001 to become a capable facilitator of regional integration and sustainable development through the programme. Working closely with the Secretariat's leadership and selected Member State institutions, the German Development Cooperation support plays a key role in SADC's efforts. SADC aims to achieve the following core topics of regional integration:
Trade liberalisation
Infrastructure
Peace and security
Food security and natural resources
Social development and gender
Science and technology development
German engagement has been commissioned by the Federal Ministry for Economic Cooperation and Development (BMZ) and through providing technical assistance with Deutsche Gesellschaft fur Internationale Zusammenarbeit (GIZ) GmbH.    
Federal Ministry for Economic Cooperation and Development (BMZ)
Addresses of the BMZ offices:
BMZ Bonn                                            
Dahlmannstraße 4
53113 Bonn, Germany                                
Tel: +49 (0)228 99 535-0                                
Fax: +49 (0)228 99 535-3500
Stresemannstraße 94
10963 Berlin, Germany 
Tel: +49 (0)30 18 535-0                                
Fax: +49 (0)30 18 535-2501 
Email: poststelle@bmz.bund.de