Botswana Explores Fish Farming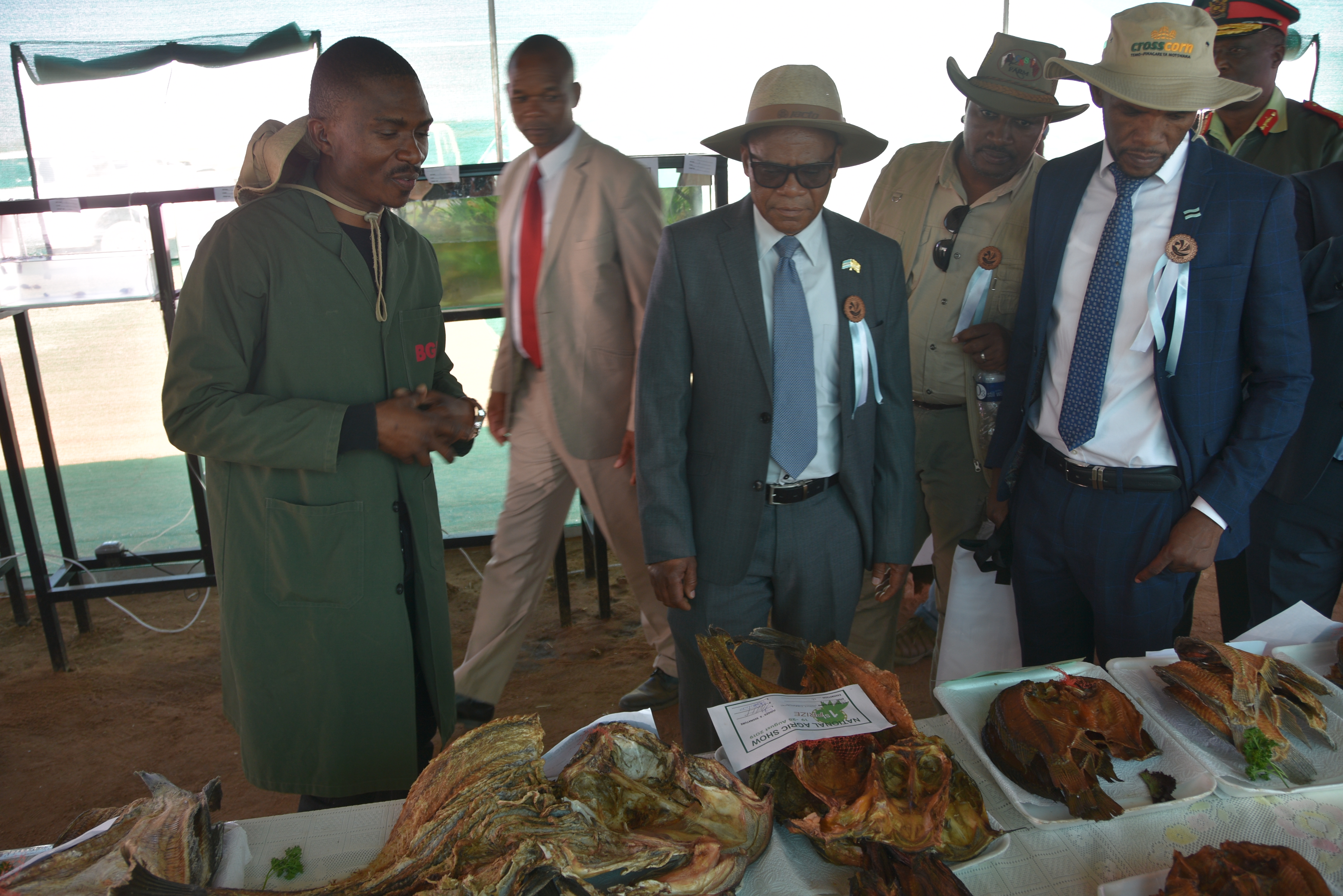 During the just-ended national agricultural show in Botswana, the National Focal point person for the Centre for Coordination of Agricultural Research and Development in Southern Africa (CCARDESA), Ms Lorato Bailang, took time to interview the Senior Scientific officer under the division of Aquaculture, Mr Montshwari Molefe about aquaculture in Botswana.  Mr Molefe intimated that the Aquaculture division in the Ministry of Agricultural Development and Food Security was established as a stand-alone division on 11 October 2017.  The main function of this division is to promote the development of a viable and sustainable aquaculture industry as a way of economic diversification in Botswana.  He added that aquaculture is a broad term that is used to describe farming of aquatic organisms in a controlled environment including both plants and animals, but Botswana has chosen to mainly focus on fish farming.
He reiterated that fish farming is still an untapped market that farmers should explore as an income-generating stream. He also informed CCARDESA that Botswana has one notable projects in Kasane area which produces an annual production of 38 tons of fish and has become a source of protein, employment and economic backbone for the nation. He says that other small and medium enterprises are also coming up in the Southern part of the country, as more people are recognizing fish farming as a viable business venture. He says that the success of commercial fish farming in Botswana can be realized through intensive Aquaculture systems with fully controlled environmental conditions such as the use of indoor aquaculture Recirculating Systems (RAS)
To boost and encourage the fish farming industry, the Botswana government has constructed a Mmadinare fish hatchery to supply fingerlings to farmers and stocking community dams, to act as demonstrating a facility for aspiring fish farmers and a Fisheries Research & Development Facility. Government has also initiated the Aquaculture Legislation framework for aquaculture strategy.
Though fish farming has shown potential for growth in the country, there are some challenges that the division has noted such as
Limited water resources as Botswana does not have a lot of water

Lack of technical knowledge of fish farming as its relatively new and farmers are not yet knowledgeable on its management

Unavailable fish feed locally; feed constitutes up to 60% of running costs of a fish farm. Importing feeds therefore makes fish farming more expensive.
Mr Molefe says despite these challenges, more farmers are venturing into fish farming and this is a clear indication that fish farming has a bright future in Botswana and deliberate strategies should be developed to encourage its uptake.