CCARDESA Promotes Smart Climate Agriculture Practices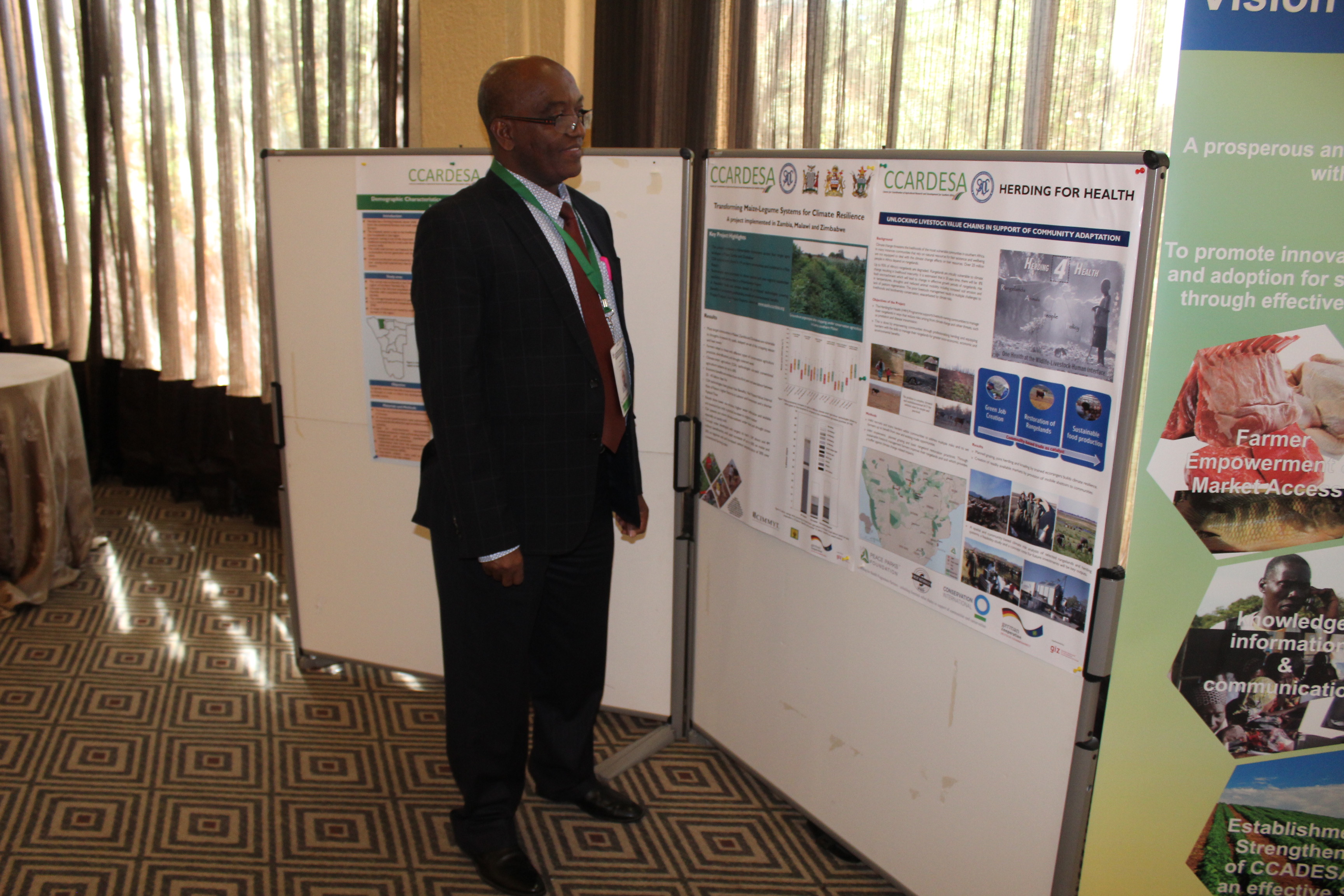 CCARDESA is attending the SADC Ministers of Agriculture, Food security, Fisheries and Aquaculture meeting in Namibia. The CCARDESA booth has drawn people's attention where there are posters and information packages for the programmes under CCARDESA.
One notable poster that drew people's attention was the Herding for Health (H4H) Poster on Livestock. The head of the senior Tanzanian delegation, also the Director General of Ministry of Agriculture, Dr Patrick Ngwediagi, was happy to see that CCARDESA was working towards the restoration of rangelands as well as facilitating the co-existence of wildlife and livestock.
The poster highlighted the work that Herding for Health is doing with conservancy communities in Mozambique, Zimbabwe, Zambia, Botswana and Lesotho. They work to ensure that rangelands are preserved to avoid a situation where there is no grazing land for cattle and wildlife. To mitigate the climate changes, CCARDESA is working with the GIZ-ACCRA Programme through the Heading for Health Project.
The other poster that caught the attention of the Tanzania delegation was the poster on the assessment of Maize, which was jointly conducted by CCARDESA with the International Maize and wheat improvement centre (CIMMTY). The assessment was piloted in 19 on-farm communities in Zambia, Malawi and Zimbabwe. After the pilot, the results revealed that communities are more vulnerable to droughts, in-season dry spells, delayed onset of the cropping season and heat waves. It was learned that Climate-Smart agriculture (CSA) technologies out-yield conventional agriculture systems by up to 60%. It also revealed that economic benefits are evident from the first year and save labour between 25-45 labour days /ha, and there was also reduced levels of soil erosion.